Proses Modular Helix Systems (General Info)
Fully modular and upgradeable PVC helix systems.
Can be assembled and disassembled in less than 2 hours, which enables you to move or change your layout and modify your helix with ease.
Very strong despite being modular. Assembly is done using nuts and wing nuts. You don't need any tools, even a screwdriver.
Designed for all track systems, single or double tracks, various sizes.

How to customize your order.
1. Select from single or double track versions.
2. Select the number of levels.
Price and shipping cost will be calculated automatically.
Shipping will be updated after you login or save your address.
The radius/diameter of the helix.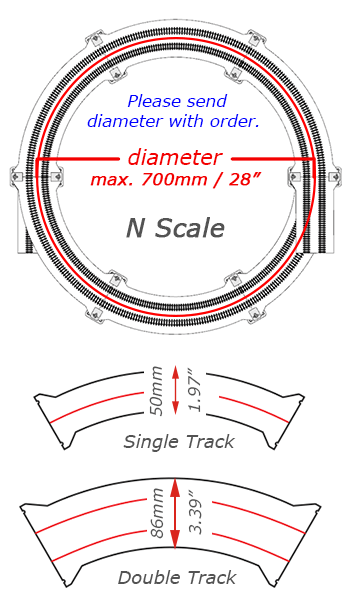 On the checkout/address page, there is a comment section.
Right down your helix diameter or the brand and item code of the track you'll use.
Examples:
Single track radius: 18" (18" Atlas track, etc.)
Single track radius: 572 mm (Hornby R8262, etc)
or
Inner track radius: 18" (18" Atlas track, etc.)
Outer track radius: 22" (22" Atlas track, etc.)
No worries, we will send you an email to confirm the dimension before starting to make your order.